Every December, I name a "Person of the Year" – the individual who left their mark on Canadian politics over the past year, for good or for bad. Below is a list of recent choices:
2013: Rob Ford & Naheed Nenshi
2012: Allison Redford
2011: Jack Layton
2010: Rob Ford & Naheed Nenshi
2009: Jim Flaherty
2008: Stephane Dion
2007: Jean Charest
2006: Michael Ignatieff
2005: Belinda Stronach
2004: Ralph Klein
I've never picked Stephen Harper because, duh, obviously the Prime Minister is going to have an impact on politics. And 2014 was no exception. In a year which was very much the prelude to the 2015 election, it was inevitable that Harper would be front in centre – would he call an early election? Would he take a walk in the snow? What would he do with the surplus?
So if you strip Harper away, who does that leave?
The attacks on Parliament Hill stunned the country and will not be soon forgotten, but I doubt terrorism and security will be the defining issues of the next election. Kevin Vickers deserves every honour we can bestow but we're singling out individuals who made a political impact, not heroes.
The death of Jim Flaherty was another tragedy that exposed the human side of politics. But with the exception of Flaherty's doubts on the merits of income splitting, Joe Oliver has largely continued on the course his predecessor set.
The real world also cast its ugly shadow into the surreal world of Toronto municipal politics, with Rob Ford's cancer diagnosis. Although John Tory winning something is a small miracle, he was elected precisely because he won't inspire national and international headlines. So expect his impact on the national scene to be rather muted in the coming years.
So we're left looking to the provinces for our person of the year. And there are no shortages of candidates.
The implosion of my 2012 Person of the Year Alison Redford was breathtaking, and might very well be the deathblow to Canada's longest serving government…Oh wait. Who's that riding into town on a horse to save the day? Why, it's Jim Prentice. In only a few short months, Jim Prentice has taken the PCs from death's door to a point where they are basically guaranteed to govern until 2020. Obviously enough, one of the all time great capitulations by Danielle Smith helped. The only thing holding me back from naming Prentice as my Person of the Year is that these "out of the ordinary" events have become rather ordinary in Alberta. As the cliché goes, these are just the sort of things that happen to governments during their 12th term.
Elsewhere, the Manitoba NDP and Newfoundland PCs are in the process of imploding, and seem destined for defeat unless they can find their own Jim Prentice. New Brunswick said hello to a new Premier, and PEI said goodbye to theirs. In Quebec, Philippe Couillard's victory doesn't feel so surprising, but we forget how certain everyone was of a PQ victory. One PKP fist pump later, and no one is talking about another referendum.
The story was very much the same in Ontario. Which brings us to the Woman of the Year: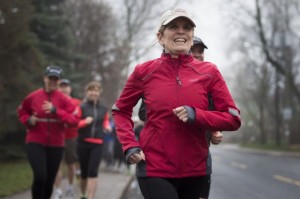 Although Kathleen Wynne led wire-to-wire, her victory was far from certain. The Liberals were going for a fourth mandate, and many die hard Liberals privately acknowledged they didn't really deserve re-election. Baggage has a way of building over 10 years, and Wynne did not enjoy Prentice's ability to come in as an outsider with clean hands. Hudak and Horwath both had paths to victory, and a scenario where the Liberals got squeezed to third place wasn't outside the realm of possibility.
Yet Wynne was bold, and proudly progressive. Her opponents certainly made life easier for her, but she was a rookie against two leaders who had done this before. And she won. Decisively.
Though many in Ontario would disagree, Ontario is not Canada. Yet behind the scenes, the Ontario election served as a testing ground for the federal parties, and the lessons learned will be applied federally. Mulcair's sharp turn to the left this fall was no doubt a response to the backlash Horwath saw for running to the right of the Liberals. And the Tim Hudak campaign of 2014 will serve as a cautionary tale for decades to come.
Since her win, Wynne has inserted herself into the national dialogue in a way Ontario Premiers have been shy to do in the past. Kathleen Wynne may not look or sound like Danny Williams or Ralph Klein, but she appears eager to assume the title of chief antagonist to the Prime Minister. Regardless of whether or not she ever gets her dinner date with Stephen Harper, she's a player on the national stage. That will matter if Ontario turns into a battleground in 2015, as most expect. On pensions, on pipelines, on the environment – expect Wynne's voice to be heard not just in Ontario, but nationally.