For a brief history of Stampede fashion, you can read the 2006, 2007, 2008, 2009, 2010, 2011, 2013, and 2014 round-ups – or "100 Years of Bad Photo-Ops"
All eyes were on Calgary this weekend, as Stephen Harper, Justin Trudeau, and Thomas Mulcair kicked off the pre-election BBQ circuit. Despite the extra media attention, this year's fashion round-up is a rather tame affair. When you get the truly horrible photo ops is during leadership races when Bay Street Liberals and Annex Socialists venture west for the first time. For the three men vying to win this fall's election, this isn't their first rodeo.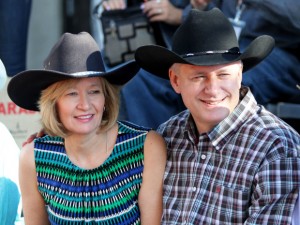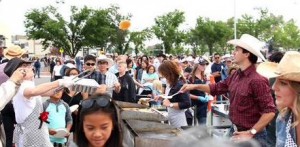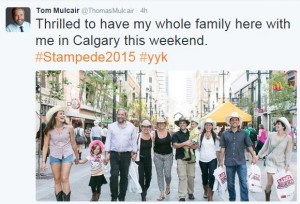 And, of course, everyone had to get their picture with Calgary's most photographed landmark, Naheed Nenshi.

I assume this wasn't Rachel Notley's first Stampede, but this marks the first Stampede where anyone recognized Rachel Notley. That placed a lot of pressure on her, especially since Ed Stelmach called it the "Alberta Stampede" and looked completely out of place during his first Stampede as Premier.
Notley…well she rode a friggin' horse. Anyone who rides a horse is deemed to have won at Stampeding. It's that simple.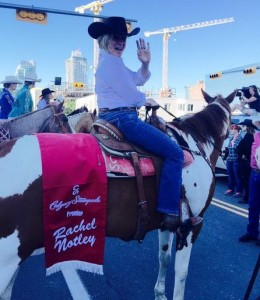 As for what's left of the Alberta PCs? The good news is their entire Calgary caucus could carpool together in the parade this year.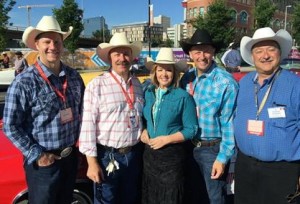 Finally, we end this post on a sad note. After losing two nominations and being told "thanks but no thanks" in his bid to run for the most right wing party in Canada, this will mark Rob Anders' final Stampede as an elected member of Parliament in Calgary. Luckily, Rob took it in stride and was still smiling.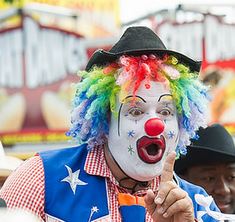 SUPER IMPORTANT VERY URGENT UPDATE:
No sooner had I posted this round-up, than Rachel Notley did the unthinkable, and was caught wearing her cowboy hat backwards.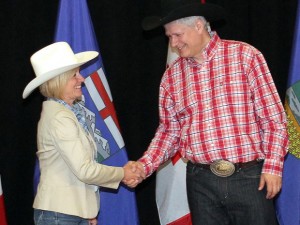 As discussed above, a Premier's first Stampede is a dangerous place.
Still, Notley gets credit for riding a horse and not grimacing like she was trapped in some kind of hillbilly horror show. As for her slip-up, the Post's Jen Gerson put it best:
Mocking Notley for her imperfect grasp of the white Smithbilt during Stampede is a little like picking on a cosplay actor who misplaced the buttons on the breathing apparatus of a Darth Vader costume at ComiCon.