For a brief history of Stampede fashion, you can read the 2006, 2007, 2008, 2009, 2010, and 2011 round-ups – or last year's "100 Years of Bad Photo-Ops"
Flood waters cannot stop the Stampede and flood waters cannot stop politicians from the annual ritual of self humiliation known as the cowboy hat photo-op. Indeed, if there's one photo op even more irresistible than the Stampede, it's a post-disaster zone tour.


The Flood Aftermath
Stephen Harper was the first on the scene, playing dress-up in a Canadian Forces flight jacket, complete with pilot wings. Harper defended his wardrobe choice by saying he was honouring the military – I tend to think a better way to honour them would have been allowing Afghanistan troops to keep their danger pay.
Next up would be Thomas Mulcair, sporting the official Stampede "hell or high water" t-shirt – four words that in southern Alberta usually follow "I'm never voting NDP come…".
Justin Trudeau put on his coveralls, got his hands dirty, and made history becoming the first aspiring Prime Minister to ever sport a backwards baseball cap:
While I have no doubts the Tory war room was dreaming up attack ads to use this picture in, at least Justin didn't ruin a perfectly good pair of jeans: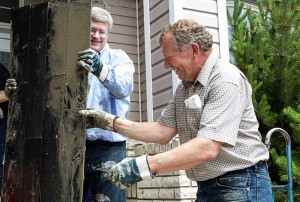 Stampede Round-Up
But we were told come hell or high water the show must go on, so it was time for the politicians to pick up a cowboy hat and flip some pancakes. Alberta Premier Alison Redford proved to be a bit over eager on this front, sending her pancake into orbit, in what I can only assume was an attempt to out-flip Danielle Smith.
Although Chris Hadfield was the Stampede grand marshal this year, it appears that Justin Trudeau once again managed to overshadow an astronaut. Because everywhere you looked this weekend, there was Justin. At one point yesterday the Calgary Herald had three separate Trudeau stories on their website – this likely isn't the first time that's ever happened, but I suspect it's the first time none of the stories involved effigies.
Mercifully, Justin decided to forego cargo shorts in favour of jeans and belt buckle. It remains to be seen if he's a big thinker, but the "XL" tag on his hat at least shows he's got a big head.
And here's Justin – again – with Calgary's mayor and international Twitter superstar Naheed Nenshi. I'm not sure I agree with the FastForward survey which named Nenshi the "sexiest Calgarian", but he's certainly the most huggable.


Also Pictured