As you have probably heard a hundred times over the past month, the Calgary Stampede turns 100 this year.
Calgary has changed a lot over this time. A seat at the 1912 rodeo cost 50 cents. Calgary's population was 70,000. And, oh yeah, back then Alberta was a Liberal bastion, with the Grits holding 6 of 7 federal Alberta ridings and 36 of 41 provincial seats. Times have changed.
So maybe then-Prime Minister Robert Borden can be forgiven for not braving the hostile frontier known as Liberal Calgary to visit the first ever Stampede.
The first notable political Stampede photo-opp I could track down came from 1928, featuring soon-to-be-Prime Minister RB Bennett. Bennett, after all, was from Calgary and actually once owned what would become the Stampede land.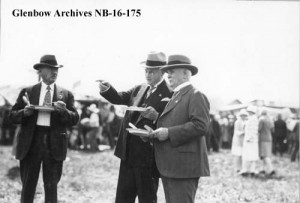 It's not clear when it became expected for Prime Ministers to "go cowboy", but I suspect the sight of Lester B Pearson in a three-piece suit and bow-tie may have been the tipping point that made politicians realize they needed to at least try and fit in. It's hard to look more out of place than Pearson, so this photo may well have been his "leather vest" moment.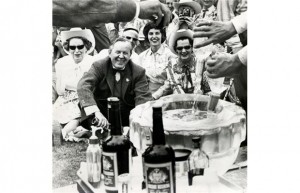 Next up is one of the most bizarre sights ever witnessed in Calgary's history: The great satan himself, Pierre Trudeau, riding a horse down 6th avenue, in suit (with his trademark lapel rose) and cowboy hat, waving to the crowd. It's a look any other politician would have been ridiculed about for weeks, but if there's one thing even Albertans could agree Trudeau had, it was style.
And any time you can ride a horse with confidence, you usually get passing grades on the Stampede Fashion Report.
Liberal Prime Ministers since Trudeau have not fared as well. While Jean Chretien delighted in telling the same story about his great uncle visiting Alberta in 1900 on each and every trip to Calgary, he always looked out of place at Stampede.
Paul Martin meanwhile, was always Paul Martin – trying too hard to make everyone love him. Photo ops galore with the Calgary Flames is one thing – the "I love Alberta Beef" sticker and full jean outfit was likely overkill.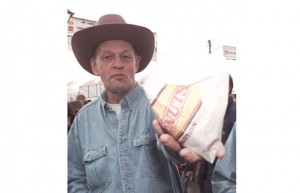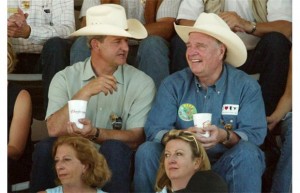 Which finally brings us to the most infamous Stampede picture of them all.
The year was 2005, long before then-leader of the opposition Stephen Harper hired a psychic/stylist. It's too bad, because she could have cautioned him against the tight leather vest and backwards cowboy hat that made him look like one of the Village People. At the very least, she would have been able to predict the coast-to-coast ridicule his outfit prompted.
Mind you, 7 months later Harper was Prime Minister, so he got the final laugh.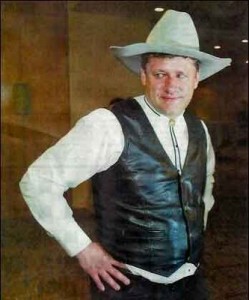 Harper's an Alberta boy, so he should have known better. But, for some reason, Albertans sometimes have great difficulty looking like Albertans.
Take Ed Stelmach who, in 2007, had one of the worst Stampedes ever. Stelmach kicked off his first Premier's breakfast by welcoming everyone to the "Alberta Stampede". Minutes later, he was nearly pied. To top it off, the man looked horribly out-of-place the entire time in a dark blue suit jacket and a "get me out of here" smile.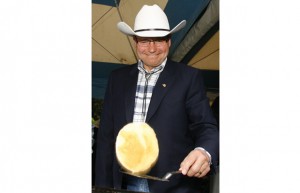 Here, for your viewing pleasure, are others who had varying degrees of success in pulling off the "cowboy look" over the years.