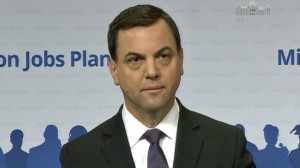 We know Kathleen Wynne likes to run, but this spring she was running against 10 years of baggage, a widespread time for a change sentiment, and more scandals than the opposition could fit in a 30-second TV spot. Luckily, she was also running against Tim Hudak.
Given these challenges, the election was Hudak's for the taking (or Horwath's – more on that later). Out of the gate, he claimed control of the agenda, dominating the headlines every day. This was a page out of the Harper 2005 Playbook, when he took a break from Gomery to announce his 5 priorities. For Harper, it was very much about reassuring voters he was fit to replace a government most were ready to replace.
The problem for Hudak was that the agenda he laid out was nothing at all like Harper's. The 5 priorities were populist fluff few could disagree with – a GST cut, a wait times guarantee, an accountability act, cash for parents, and tough-on-crime legislation. Some may not have agreed with them, but it's hard to be against tax cuts. Harper suddenly looked less scary than the private healthcare, pro-gun, anti-abortion caricature that had been drawn of him two years earlier. By showing his agenda, he eased fears about a hidden agenda.
However when Hudak took control of the campaign, he showed an agenda that was just as harsh as anything the Liberals could have accused him of hiding. By inviting controversy, the debate became all about Hudak rather than the Liberal record. Most shocking was his pledge to axe 100,000 public service jobs, something the Liberal campaign pounced on and didn't let go of. Suddenly, Hudak was playing defense on what he hoped would be his strongest turf – jobs. It certainly didn't help that his math was (once again) suspect.
Despite a strong debate performance by the PC leader, the ballot question had already shifted from change and corruption to Hudak's plan. That left a suddenly centrist Andrea Horwath squeezed out of the picture with little to say – another abject failure for the NDP, on the heals of disappointments in Nova Scotia and BC.
The Wynne campaign, meanwhile, kept a laser focus on Hudak. When forced to talk about their own plan, they wisely steered the conversation to pensions – the one clear idea in a rather smudgy financial blueprint.
Winning elections is all about framing the election around the narrative you want, and that's what Wynne was able to do…by letting Tim Hudak control the agenda.