Previously: Prologue, The 19th Century, An Elected King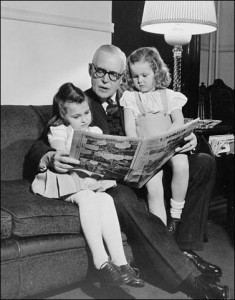 The last blog post in this series took place at the 1919 Liberal leadership convention, during the aftermath of the Great War. All of a sudden we have – cue the music – Harry Truman, Doris Day, Red China, Johnnie Ray, South Pacific, Walter Winchell, Joe DiMaggio. To put the amount of time King ruled into perspective, John Turner would still be Liberal leader today if he had King's staying power.
As you can imagine, the Liberal Party King left to his successor in 1948 was very different from the one he inherited from Laurier. In 1919, the Liberals were in opposition, still trying to patch themselves together after being torn apart by the conscription crisis. In comparison, the Liberal crown in 1948 was likely the most appealing party leadership to ever open up in Canadian history. The Liberals had become the natural governing party and, despite some noise by the CCF, there was little reason to doubt the next Liberal leader wouldn't win two or three elections in a row. This was the Liberal Party in the heart of a 22 year stretch of majority government rule – the glory days of Rome.
So it's not like delegates were looking to rock the boat when the time came to crown a new king. Indeed, the transfer of power from King to St. Laurent was perhaps the stablest leadership change in Canadian history. King had slowly been transitioning responsibilities to his chosen successor for years, and CD Howe would still be doing the heavy lifting in Parliament. There would be no drastic policy shifts, no major Cabinet shuffle. There have been more dramatic logo changes.
Still, there was the formality of a leadership race to get through. Although a young Paul Martin (get used to seeing that name in this post series) mused about running, three candidates wound up on the first ballot:
At 60, Chubby Power was the youngster of the bunch. He also brought with him the most amazing political resume in the history of Canada. His father and grandfather had been politicians (as would his then one year old grandson, Lawrence Cannon). He'd played professional hockey for the Quebec Bulldogs. He won a Military Cross at the Battle of the Somme, then returned to Canada to run as a Laurier Liberal against conscription in 1917. He was one of the most prominent Quebecers in Mackenzie King's Cabinet. The problem for Power was that he had gone all mavericky, resigning over conscription during the war and running as an independent Liberal in 1945 under a mischievous "King if necessary, but not necessarily King" motto. Power readily admits in his memoirs that he made himself "rather obnoxious" by repeatedly criticizing the government. Unsurprisingly, he was a non-factor.
Jimmy Gardiner was the first westerner to make a serious run at the Liberal Party leadership. He was also the last. That tells you all you need to know about the Liberal Party's relationship with Western Canada over the past 65 years. Gardiner enjoyed two brief stints as Premier of Saskatchewan before joining Mackenzie King's Cabinet in 1935, where he would hold the agriculture portfolio for the next 22 years.
Louis St. Laurent had made a name for himself as a lawyer and director of major corporations, and was the first French speaking president of Canadian Bar Association. Although his father had run for the provincial Liberals in 1904, Louis stayed out of politics – except for one brief and unremarkable appearance on stage at a Chubby Power campaign event in 1926. He had been in politics for just 6 years by the time the convention rolled around.
How St. Laurent Was Crowned
There were doubts about St. Laurent. He was seen to have campaigned poorly during the recent Quebec election – even his confidant Jack Pickersgill conceded St. Laurent "lacked fire and appeal". Gardiner, Power, and yes, even the young Paul Martin, had more elected experience than him. Some wondered if English Canadians would back a French Catholic – St. Laurent himself had doubts, telling reporters when King resigned that he would not run if he thought the Liberals would be "split on religious or racial lines".
Yet this was a "race" in name only – like the first two elections St. Laurent would lead the Liberals through, voting was a mere formality.
To understand how we got to that point, we need to flash-back to November 26th, 1941, when King's trusted right hand man Ernest Lapointe passed away. King recognized he would need a new Quebec Lieutenant – not just for the sake of tradition, but to prevent a repeat of the conscription crisis that had torn the country and the Liberal Party apart during the war to end all wars. After Quebec Premier Adélard Godbout turned King down, several of his advisers (including Chubby Power) suggest St. Laurent. King had lunch with St. Laurent on December 5th and appealed to his sense of duty to coax the reluctant lawyer into becoming Minister of Justice. St. Laurent accepted, but made it perfectly clear he was being conscripted just for the war, and would return to private life once the fighting ended in Europe.
Once the fighting ended in Europe, King designated St.Laurent as Secretary of State of External Affairs, marking the first time the PM had ever handed off these powers to a Cabinet Minister. Remember, these were the post-war years, with the founding of the United Nations, the beginning of the cold war, and atomic age dawning on the world…this was not a light portfolio.
Still, by 1947, St. Laurent made it clear to King that he had served his tour of duty and was ready to call it a career. King begged him to stay. Cabinet Ministers begged him to stay. Even a few Conservatives begged him to stay, in the interests of national unity. They all told him he could be Prime Minister, but St. Laurent didn't seem too excited at the prospect, even after getting a taste of the role as the acting PM whenever King was out of the country.
But King wanted St. Laurent as his heir and Mackenzie King always got what he wanted. He made his case, argued it, persisted, and systematically made cleared all possible roadblocks. St. Laurent was worried about money, so wealthy benefactors were found to help him out financially. St. Laurent wanted CD Howe to stay in government, so King made sure Howe stayed. Once St. Laurent reluctantly agreed to run, King announced his retirement, then orchestrated the show. He even arranged to have half his Cabinet put their names forward for nomination at the convention…only to make a show of withdrawing and throwing their support behind St. Laurent.
It therefore came as a surprise to none when Louis St. Laurent took the leadership on the first ballot, with 69% support. The reluctant politician had become the reluctant Prime Minister.
For more…

Louis St. Laurent Dictionary of Canada Biography
Charles Gavan Power's A Party Politician: The Memoirs of Chubby Power
George Bowering's, Egotists and Autocrats
The Mackenzie King Diaries
Allan Levine's King
Jack Pickersgill's My Years with Louis St. Laurent
Dale C. Thomson's Louis St. Laurent, Canadian