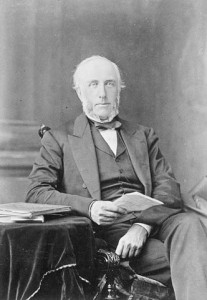 Between now and the Liberal leadership convention next spring, my intent is to draft a series of blog posts recapping Liberal leadership races throughout history.
Some of these will be more thorough and more interesting than others – after all, there's only so much one can say about Lester B. Pearson's first ballot victory with 79% of the vote at the 1958 Liberal leadership convention. Also, I don't think anyone visits blogs to read 20-page essays and I don't want to spend my summer squinting at microfiche, so these posts will be concise, and will primarily draw from (and cite) articles and books for source material. At least until we get into the modern era, when first hand accounts become more accessible.
Before we begin, it's worth pausing to decide where to begin. My original intent was to start with William Lyon Mackenzie King's 5th ballot victory at Canada's first ever leadership convention, in 1919. But that would be ignoring over 50 years of history, and if I'm going to write anything about the 2008 leadership contest (and believe me, I've got plenty to say), I can't very well overlook other Liberal leaders who were appointed by caucus. So the first installment of this series will recap how Alexander Mackenzie, Edward Blake, and Wilfrid Laurier were selected.
But jumping straight to Mackenzie's ascension in 1873 overlooks the fact that the Liberal Party was very much alive and kicking for the 1867 and 1872 elections. And if we look at the pre-confederation fossil records, we can find another 7 or 8 elections fought by various ancestors of the Liberal Party.
So before we get to the Liberal Party leader with the most integrity and the most facial hair, let's gaze briefly into pre-history.
In the Beginning…
The temptation is to start in 1867, but 1867 can't truly be considered the beginning, since the Liberal Party pre-dates confederation. As convenient as it is to assume Canadian history begins July 1st, 1867, there were meaningful elections fought in the province of Canada going all the way back to 1841. Heck, there's even a Heritage Minute on it:
Baldwin and Lafontaine led the Reform Party, a movement that would split wide open in 1854, with the moderates joining the Tories to found the Liberal-Conservative Party, and the radicals coalescing into the Clear Grits in Upper Canada and the Rouges in Lower Canada. Depending on where you draw the line between "party" and "ad hoc rainbow coalition", the Clear Grits and Rouges morphed into the Liberal Party sometime between the late 1850s and early 1870s.
During this period, George Brown was the de facto leader of the Liberals in Upper Canada, and even got to be Prime Minister for 2 days in 1858. Brown is likely best known today as the founder of the Globe – a paper he used to advance his reform agenda. When Brown was shot and killed in 1880, the culprit would be a disgruntled newspaper employee rather than a political assassin.
Brown's passion was politics, and by the time the 1867 election rolled around, he was Ontario Liberal Leader, and the most prominent Grit in the newly-founded country. Although the Liberals had no official leader, it seems almost certain he would have assumed the title of Prime Minister had Sir John A been upset in the new country's first election.
So in many respects, you could argue Brown was the Liberal Party's first true leader, and the country's first Liberal Prime Minister – if only for a few hours, long before confederation. But most would instead bestow those honours on Alexander Mackenzie – which is where we'll begin part 1 of this Liberal leadership series next week.
For More Information…
Canadian Heritage Gallery
The Canadian Encyclopedia
History of the Liberal Party of Canada
The Quebec History Encyclopedia
Will Ferguson's Bastards and Boneheads