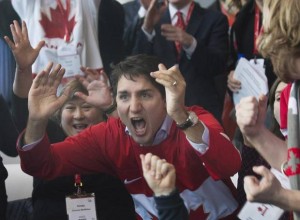 When a new narrative sets in, it's oh so easy to forget the old narrative. But as I compared this weekend's Liberal Party convention to the last time Liberals gathered, I was reminded at how quickly the story has changed.
First, let's flash back to January 2012. Newt Gingrich was alive and well in the Republican presidential race, Miley Cyrus was still Hannah Montana to most of us, and our biggest concern about Rob Ford was that he sometimes texted while driving. A few people worried about the Mayan Doomsday, but the larger concern for Liberals gathered in Ottawa was not the end of the world, but the end of the Liberal Party. Nearly every article about that convention speculated about the party's demise, and the very real possibility they could be squeezed out of existence by the Conservatives and NDP.
It wasn't farfetched. It had happened in the UK and in several provinces, and while the "Nycole Turmel bump" had the Liberals showing signs of life, the leadership picture was murky, at best. Bob Rae had agreed not to run for leader, but was definitely thinking about it, leaving a lot of Liberals uneasy. Not that the alternatives were setting the world on fire – David McGuinty or Denis Coderre, anyone? While it feels like we've been living in Trudeaumania forever, fewer than 1 in 7 people thought he'd actually run for leader on a straw poll I posted on my website that winter.
I wouldn't call the mood bleak at the 2012 convention, but there was definitely a lot of trepidation and nervousness.
Flash forward two years and the picture is unrecognizable. The Liberal Party is coming off its best fundraising quarter ever, and candidates are lining up for hotly contested nominations. For the first time in 50 years, there wasn't a whisper of leadership speculation in convention hospitality suites. The fact that those same suites contained late night poutine bars is certainly a sign these are times of plenty.
This all led to a more energized atmosphere among delegates. I'm sure even Green Party conventions feature speeches describing Elizabeth May as the "next Prime Minister of Canada", but in candid conversations, even the most optimistic delegates have a sense of realism. Two years ago, there was a lot of talk about "two election strategies" and "catching the NDP". This time, the focus is squarely on making Justin Trudeau Prime Minister on October 19th, 2015 (or earlier).
That may still be an overreach. But it serves as a reminder of how quickly things have changed in Liberal land, and the type of game changer Trudeau has been.