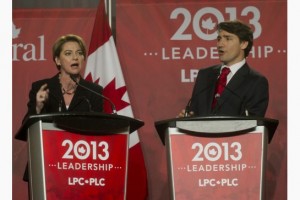 While the sit-down interview format of the last "debate" served as a nice introduction, the timid questions served up by Harvey Locke didn't give us any sense of how the candidates would perform in the heat of an election campaign.
Saturday, we were treated to a series of short two-way and three-way debates, with many of the questions asked by the candidates themselves. Yes, a few of the exchanges were so pleasant you'd think you were watching Liberal speed dating – as Karen McCrimmon playfully remarked at one point, "another opportunity for radical agreement". But there were also difficult, substantive questions. Regardless of where Deborah Coyne ranks on your leadership ballot, she proved herself to be a fantastic moderator. Going head-to-head with Justin Trudeau, who dwarfs her both literally and figuratively, she held her ground asking him where he stood on granting Quebec special powers for immigration. After Marc Garneau dodged her question about the need for a national referendum on electoral reform, Coyne forcefully pressed him for an answer.
The more confrontational nature of the debate led to flubbed answers, awkward moments, and even a few boos. Joyce Murray and George Takach had a gawky exchange where Murray derisively referred to Takach as a "Bay Street Lawyer" with "experience off-shoring jobs to China", prompting Takach to shoot back by belittling her work planting trees. When Takach tossed out another jab later in the debate, solidifying himself as the "anti-tree" candidate, he was met with smattered boos. Given the race isn't going to come down to a Takach-Murray final ballot, this melee likely didn't do either of them any favours.
Not every segment contained political oration that moved and inspired, but as a genuinely undecided Liberal member, this is exactly what I was looking for in a debate. By putting candidates' feet to the fire, it became clear who could handle the heat of an election campaign and who would be deep fried by Harper and Mulcair during a federal election debate.
So we learned that Deborah Coyne knows her shit, Joyce Murray has a lot of bold ideas, Marc Garneau can be affable, and Martha Hall Findlay is confident. But the candidate who really impressed was Justin Trudeau.
No one has ever denied Justin's talent and potential, but the ballot question of the entire race has been whether or not he's ready for the big leagues.
Admittedly, debating Harper and Mulcair is an entirely different thing than debating David Bertschi and Karen McCrimmon, but Trudeau held his ground. After a shaky first exchange with Marc Garneau on his qualifications for the job, Trudeau bounced back in a big way. He answered Deb Coyne's immigration question by showing he knew the issues, mixing reason and passion into his response. Responding to criticism he lacks substance, he sprinkled in policy nuggets on eliminating boutique tax credits and giving the federal government a larger role in education. No, there were no specifics, much to the chagrin of some of us, but it was meatier than the usual "help the middle class" platitudes.
Which brings us to the defining moment of the debate. In one of the final exchanges, Martha Hall Findlay moved in to attack Trudeau over the "middle class" focus of his campaign. Her point was a valid one – that we should aspire to be a classless society, and that a focus on the middle class leaves the less fortunate behind. However, Findlay turned her critique into an aggressive jab at Trudeau's upbringing, telling him he couldn't understand middle class issues, sine he wasn't a member of it. Prefacing a call for a class-free society with a class-based attack was classless, and the crowd responded with another round of boos.
Trudeau seized the moment, responding with an eloquent and emotional rebuttal, pointing to his experiences as an MP in Papineau. It was a clip that would have led off every newscast had it occurred during a federal leaders debate.
There are still many questions about whether or not Justin is up for the job, but he answered a few of them Saturday.