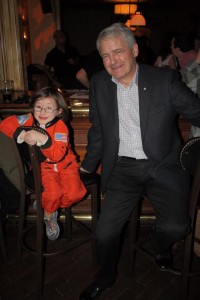 Marc Garneau fires the first photon torpedo of the leadership race:
Leadership means taking a stand

I believe this leadership race is the time for the party to vigorously debate the issues of importance to Liberals, to Canadians; to define where we stand as a party; and to select the person who can best lead us.

That's the fundamental difference between Justin Trudeau and myself.

Justin believes telling Canadians we need a 'bold' plan and a 'clear vision' without defining either is good enough. He speaks in vague generalities, and on his two key priorities – the middle-class and youth – he has presented no direction.

Justin says he will do that after the Liberal leadership race is over – sometime before the next election in 2015.

As Liberals, we cannot wait that long to find out what we signed up for.

That is like asking Canadians to buy a new car without first test-driving it.

We must know what we are voting for, not just who we are voting for.


On the whole, it's a mostly valid critique. Outside of his article on the Nexen takeover and an impressive party reform package, Justin has run a typical frontrunner photo-op campaign. Of course, many of those photo ops have been followed by questions from the public, other candidates, and the media, so it's unfair to say he hasn't taken any clear stands – we know he's for pot legalization, against co-operation with the NDP, for the Clarity Act, against a new gun registry, and for Supply Management.
So it's not like Justin flew to Europe for the entire leadership contest, the way Mackenzie King did in 1919. And there's certainly something appealing to his rebuttal that he wants the platform to be a collaborative effort, and not something he'd impose on the party.
Still, I can't help returning to what I wroteback when Justin declared his intentions to run for leader:
With Trudeau's objective re-defined as victory over Stephen Harper rather than victory over Marc Garneau, the wishy-washy rockstar campaign begins to look less appealing. We all know attack ads are coming, and we don't need to see Conservative Party focus group reports to know these ads will try to brand Justin Trudeau as an airhead and a lightweight (or as Andrew Coyne put it on The National: "flibbertigibbet"). If Trudeau wants to erase this caricature before it is drawn, the leadership race is the perfect venue to do that. We know the media will hover on every word Justin says over the next six months, so he'd be foolish to not take advantage of the microphones that will be in front of his face.


I understand Trudeau wanting to keep his options open and I certainly don't expect him to release a detailed platform. Nor should he, if he's genuinely committed to engaging the grassroots in the process. However, the eyes of the country will be on Justin for the next two months and I'm sure he'd rather spend that time showing Canadians that he's a substantive politician, rather than fending off accusations from all sides that he's a lightweight.