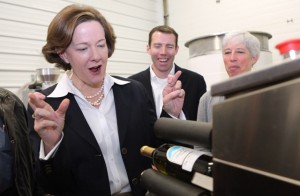 Fresh off the Daryl Katz scandal, Alison Redford is again in hot water:
The issue centres on a giant lawsuit launched by the province against the tobacco industry. The province is seeking $10 billion from tobacco manufacturers for the healthcare costs caused by smoking. The suit was announced in May, and was to be handled by a group of local legal firms that stood to gain $2 billion in contingency fees, according to Wildrose. One of the firms includes Redford's former husband, Robert Hawkes, among its partners, a fact the opposition parties maintain is a conflict of interest. Further, they say Redford misled the legislature when she informed it the choice of law firms hadn't been hers.
As has become typical of Alison Redford during her short time as Premier, it's not so much the scandal but her handling of it that has landed her in trouble. The "no meet" committee would have been a non-issue had she simply apologized and ordered MLAs to return their cheques as soon as she found out they were being paid to sit on a non-existent committee. Instead, Redford defended the committee, attacked the opposition for "grandstanding", lamented that she "couldn't change the past", and said voters were too stupid to understand the issue, before finally, after a month of controversy, relenting. It nearly cost her the election.
When she found herself in trouble for accepting $430,000 in donations from Edmonton Oilers owner Daryl Katz, Redford's response was again all over the place. She admits she talked to Katz after the election but doesn't remember what they talked about. We still haven't gotten a clear answer about whether or not Katz paid with a $430,000 cheque, and why this didn't raise any eyebrows.
And now, Redford is again making life more difficult for herself than it needs to be. There's a very valid defense to be made that every law firm in Alberta is going to have some connection to the PC Party, and that she likely wasn't thinking about her ex-husband when she made the decision. However, Redford has again chosen the Sargent Schultz defense, claiming she had nothing to do with the decision – even though there are documents indicating she did:
Redford left cabinet to run for the party leadership in February 2011. She insists the final decision on the law firm hadn't been made by then. But correspondence obtained under access to information laws indicate otherwise: A Dec. 14, 2010 memo signed by Redford, says: "the best choice for Alberta will be the International Tobacco Recovery Lawyers," which included her ex-husband's firm. A Dec. 22, 2010 email indicated that letters had gone to "unsuccessful candidates" informing them of the choice. And a January 2011 briefing note to the deputy minister says: "Shortly before Christmas, Minister Redford selected the International Tobacco Recovery Lawyers."
The fact that she's being forced to argue "Redford selected" didn't actually mean "Redford selected" shows how entangled in a web of lies she has become. For all her strengths as a Premier, "scandal management" has not proven to be one of them.
Which is unfortunate for Redford, given that she's now on her third major scandal, after just over a year in office.