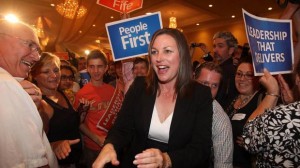 Just 17% of Kitchener-Waterlooians voted NDP provincially last fall – nearly the same number who voted NDP federally last spring, in the midst of the orange wave. They hadn't won the riding since 1943, when they were known as the CCF.
So this isn't a riding with deep NDP roots. And it's not like the other parties rolled over – Liberal Eric Davis ran an impressive campaign in 2011 and the PC's Tracey Weiler is a fine candidate.
Yet last night, NDP candidate Catherine Fife not only won – she steamrolled the competition, and more than doubled the NDP vote in the process.
In Vaughan, meanwhile, support levels barely budged. Of course, that could be a surprise in and of itself, given how suddenly the riding swung conservative federally in a 2010 by-election.
Not that we needed the reminder, but this just goes to show how by-elections can take on a life of their own. Threehundredandeight offered a 25-point wide confidence interval for his K-W NDP vote projection, and they still inched above it.
So given the unpredictable nature of by-elections, it's probably best not to extrapolate any greater meaning from last night's results – other than Tony Genco's complete and utter failure as a politician, of course.
That's not to say what happened in Kitchener-Waterloo won't change things. McGuinty was denied his majority, leaving the fate of his government in limbo. Because people do read too much into by-elections, Tim Hudak's leadership will once again be questioned and the NDP will be emboldened to bring down the government.
Before they do, they might want to consider another by-election that occurred the same night Vaughan went blue in 2010. At the exact same time voters in Vaughan were rejecting the Liberals, the Liberal vote in Winnipeg North quintupled, and Kevin Lamoureux won a riding the NDP had taken by over 40 points the previous election. A rather ominous sign for the fourth place party, heading into an election just 5 months later, n'est-ce pas?
Sometimes a by-election is just a by-election.