As David Wilks reminded us last week, Conservative backbenchers are "not going to make a difference". So it's not at all surprising that Lee Richardson has turned his back on Ottawa to take a job as Alison Redford's principal secretary.
This gives Stephen Harper six months to call a by-election in Calgary Centre, and one assumes it will get rolled up with the Etobicoke Centre re-vote, should the Supreme Court uphold the original ruling. In some respects, Richardson's resignation is actually good news for Harper – even if the Tories fall in Etobicoke Centre, they'll be able to cushion the impact with a win in Calgary Centre.
Because win they will.
Although Liberal candidate Julia Turnbull put up a good fight back when Richardson first won the riding in 2004, he took it by 40 points last spring.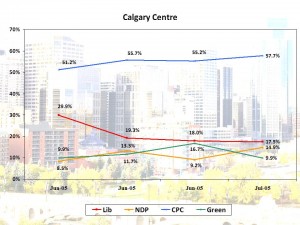 Admittedly, we've seen some dramatic by-elections over the years, but there are no local dynamics in play here that suggest the Conservatives have anything to worry about.
That leaves us with two races to watch. The first will be the Conservative nomination – assuming they don't just appoint a candidate, as they did when Jim Prentice's seat opened up. Daveberta has run down the list of possible candidates including, John Mar, Jeremy Nixon, Paul Hinman, and Ezra Levant. Although a Levant candidacy would be entertaining, I'm fairly sure the powers-that-be will find a way to make sure someone better than Ezra gets the nod.
The other race to watch will be the battle for second – in 2011, the NDP came within 1,400 votes of the Liberals, and in 2008 the Greens came within 600. In recent years, we've seen the NDP supplant the Liberals as the second place party in most of Edmonton's progressive ridings, so they'd no doubt love to do the same in Calgary. Mind you, that task becomes more and more difficult each and every time Thomas Mulcair opens his mouth.