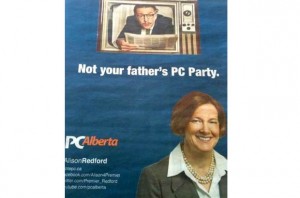 These are not happy days for the party which has ruled Alberta since before Happy Days ever aired, but the PCs had something to celebrate this weekend as they passed Ontario's Big Blue Machine Nova Scotia's Big Red Machine to become the longest serving government in Canadian history.
There are many reasons for their longevity. An ability to portray themselves as the true defenders of Alberta against the federal government. Leveraging the resources that come with power to their maximum advantage. Inept opposition parties, who were not helped by the actions of their federal counterparts.
But above all else, the Alberta PCs are still ticking because they have shown an uncanny ability to adapt and evolve. The party would have ended in 1993 if Ralph Klein hadn't completely shaken up the establishment and their approach to government. It would have ended in 2012 if Alison Redford hadn't flown in to rebrand, sucking up votes on the left of the political spectrum.
And it will end in a year or two if Jim Prentice isn't able to adapt again.