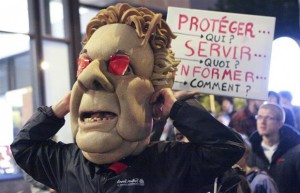 Jean Charest has been around forever. He's the longest serving Quebec Premier since Maurice Duplesis, and has been PLQ leader for over 14 years. Older Quebecers no doubt remember him from his role on the "Non" campaign in 1995, and his time as a curly haired Cabinet Minister in the Brian Mulroney government. So it's understandable that Quebecers are looking for a change – especially given the controversies and scandals he's had to endure.
Still, this man has been the Lazarus of Canadian politics, so it would be foolish to count him out. Especially when you see start-of-the-campaign poll numbers like this:
PQ 33%
PLQ 31%
CAQ 21%
And all the rest 15%
Yes, the electoral map likely favours the PQ, but the Francois Legault's "we love the future and puppies" party is very much a wild card when calculating the electoral math, and Quebecers have demonstrated a willingness to shift their votes mid-campaign. It's very much anybody's game.
And while Jean Charest has proven he can outcampaign Pauline Marois, if the election shifts to Charest versus the protestors, he's going to win hands down:
Student protesters target Liberals as Quebec election kicks off

A disorderly scene erupted in downtown Montreal at the start of Quebec's election campaign as a night protest saw injuries, multiple arrests and clashes with police.

The tense atmosphere during this spring's student unrest was rekindled Wednesday as Jean Charest called an election and cast the tuition hike dispute as a central theme.
Nothing says "strong leader" like standing up to the mob, and most polls have shown there's minimal sympathy for Quebec students, whose cell phone bills are higher than their tuition rates.
It's surprising that Charest is even still around to fight this election. The shocking thing is, he might even win.
You are not authorized to see this part
Please, insert a valid
App ID
, otherwise your plugin won't work correctly.