The new riding maps are out! The new riding maps are out! It's Christmas in July for political geeks!
As you may be aware, new riding boundaries will be in place for the 2015 election, and the commissions tasked with drawing said ridings have begun releasing them. Yesterday, the proposed Alberta maps were published, following up Newfoundland, New Brunswick, and British Columbia.
While riding changes inevitably lead to squawks of protest, my first reaction to the Alberta map is almost completely positive. Gone are Edmonton's awkward rurban ridings, with the majority of Edmonton's seats now purely urban. The Calgary-Edmonton corridor is more tightly contained, as is Lethbridge. Even the riding names have improved – gone are the boring compass ridings in Calgary ("Calgary North East", "Calgary East", "Calgary South-East"…), replaced with far cooler names like Calgary Heritage, Calgary Confederation, and Calgary Spy Hill. Seriously, who wouldn't want to be the MP for Calgary Spy Hill?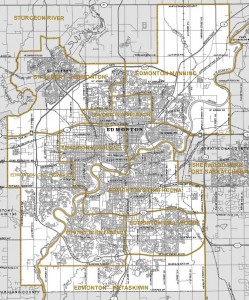 Although there are some fairly significant changes to the rural map, the commission added new urban ridings without having to use too much white-out on the map. Edmonton Strathcona remains largely unchanged, which is good news for Alberta's lone opposition MP. Ditto for the riding formerly known as Edmonton Centre (AKA Anne McLellan's old seat). Without doing any kind of vote transposition, my eyeball estimate also pegs Edmonton Millwoods and Edmonton Griesback (have I mentioned how much I love the new names?) as possible pick-ups for the non-Conservative forces, if everything breaks right. (Edmonton before and after can be seen here, over at Daveberta)
In Calgary, the changes needed to be a bit more pronounced, with two new ridings added to the city. Still, the Calgary Centre that will host a by-election this fall will be largely the same Calgary Centre we'll see in 2015. As for the other seats, I would expect Stephen Harper to claim Calgary Heritage, Jason Kenney to grab Calgary Midnapore, Rob Anders to take Calgary Signal Hill, Michelle Rempel to run in Calgary Confederation, Dianne Ablonczy to continue her reign over Calgary Nose Hill, Devinder Shory to choose Calgary McCall, and Deepak Obhrai to set up shop Calgary Forest Lawn. That would set up hotly contested Tory nominations for the new Spy Hill riding in the city's rapidly growing north-west, and Calgary Sheppard in the city's rapidly growing south-east.
While there's no reason to believe the Tories won't go 10 for 10 in 2015, the new ridings do offer a glimmer of hope for the Liberals and NDP in the long run. Calgary Centre remains a progressive oasis in the city's downtown, but the real gift from the new boundaries might be the change from Calgary North-Centre to Calgary Confederation, with the richer suburbs to the north punted in favour of the University of Calgary campus. The riding is now full of polls the Liberals carry provincially, so it's not unfathomable to imagine it might one day turn red. The demographics of Calgary Forest Lawn should also make it a long-term target for progressives in Calgary.
You are not authorized to see this part
Please, insert a valid
App ID
, otherwise your plugin won't work correctly.