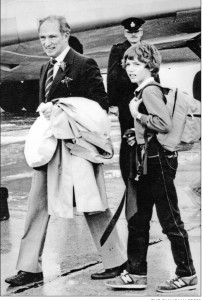 In today's Globe & Mail, Lysianne Gagnon takes aim at Justin Trudeau:
Is Justin Trudeau really the Liberals' best option?

If the Toronto Liberal intelligentsia believe that Justin Trudeau, being a Trudeau and a Quebecker, can revive their party's fortunes in Quebec, they are mightily wrong. (One might also wonder if anybody can save the Liberal Party of Canada now that the NDP occupies the centre-left, but this is another question.)

Justin's surname is as much a liability in French-speaking Quebec as it is in Alberta. Personally, I find this hostility regrettable and irrational to boot, but the reality is that more than anybody else, Trudeau Senior remains the nemesis not only of the sovereigntists but of all of Quebec's "soft" nationalists.

Any mention of the former prime minister provokes even more anger and resentment in Quebec than in Alberta, where people still fume over the infamous national energy program, which was seen as a violation of the province's right to control its natural resources.
On behalf of the Toronto Liberal intelligentsia, allow me to offer a brief rebuttal.
I don't doubt that many Quebecers spit whenever they hear the Trudeau name, but despite what the Quebec chattering classes have been saying for decades, there is no evidence whatsoever to suggest this feeling is widespread.
Take this Angus Reid poll from last summer asking Canadians who they'd pick as the best Prime Minister from the past 40 years. Topping the list in Quebec, with 26% of the vote, was none other than Pierre Trudeau. That's double the percentage ranking Trudeau the worst Prime Minister, and it's double the vote share the Liberals received in Quebec last election.
Supporting Justin Trudeau's pre-natal Liberal leadership bid because of his last name and lingering feelings for his father would be a mistake. Opposing it for that same reason would be downright folly.