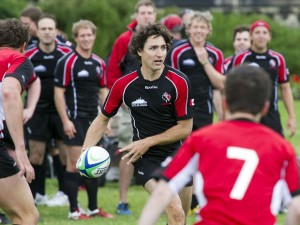 It's no secret that Liberals love power above all else, so it's hard for any Liberal to stay immune to Trudeaumania when you see headlines like "Justin Trudeau could lead Liberals to first place, new poll shows" or "Trudeau could be Grits' only hope, says pollster Graves".
I'll admit that seeing a Trudeau-led Liberal Party at 40% in the Angus Reid "fantasyland" poll caused my heart to flutter a little bit. Hell, it's been a while since the Grits were anywhere near the 32% they hit in Forum's less rosy Trudeau scenario. With numbers like this, it seems foolhardy for any other candidate to even consider running against the reluctant saviour. Let's just arrange catering for the victory party, and wrap this leadership race up now!
While there are many good reasons why Justin Trudeau should run, and there are many good reasons why Liberals should consider supporting him, polls like this should be low down the list.
What's being measured in these surveys is not how a politician will perform as leader, but how familiar voters are with them now – and what their superficial opinion of that politician is now. While voters may know and like Justin Trudeau, I suspect a Liberal Party led by Justin Bieber, Justin Timberlake, or Justin Long would poll just as high.
Obviously, it's good that Canadians have a favourable image of Trudeau, since that will make it harder for the Tory smear machine to define him. But despite this level of name recognition, I'd wager that Trudeau is still largely undefined. Voters may remember his eulogy and his boxing match – they might like his name and his hair. That doesn't mean they have any idea of the type of leader he'd be or how he'd perform as Prime Minister. They may not be considering those factors when a pollster calls them on a Saturday afternoon three years out from a general election, but they certainly will be before they vote. For proof on how quickly things can change, a similar hypothetical poll last fall had Thomas Mulcair 13 points behind the Conservatives – today, he leads.
Polls like these will no doubt tempt many Liberals. However, we've all spent the past year talking about how much the Liberal Party needs to do to rebuild and make itself relevant to Canadians again. It would be foolish to assume we're one saviour away from a trip to the promised land.
Even if you believe the Liberals are one leadership change away from power (and, hey, we can all dream), the best leader is not neccesarily the one with the highest level of name recognition today. If it were, I'd be starting a "Draft Bieber" blog.