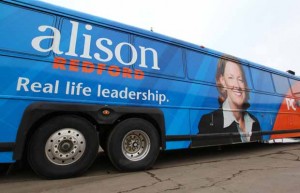 Back in 2008, myself and a couple of young Liberals launched "Edspedia.ca", a mock website to poke fun at some eyebrow raising travel expenses by members of the Ed Stelmach cabinet. The list included Mark Norris' $50,000 Vegas vacation, and Rod Stevens Hawaiian stop-over to "study their gambling system".
If I hadn't received a cheerful letter from the Expedia lawyers back in 2008, now would be a good time to launch "Redspedia.ca", because Alison Redford is facing a barrage of criticism over her travel expenses.
The controversy started with a $45,000 flight back from Nelson Mandela's funeral (plus $3 for headphones), and has since spread. The latest revelation is that Redford invited along a friend of her daughter's on a few government trips. Redford has said that "upon reflection" this wasn't an appropriate use of taxpayer funded dollars, to which taxpayers have responded with a collective "duh". For Redford, this is yet another scandal she has no one to blame for but herself.
After what happened with online polls in Alberta last election, I feel guilty even quoting numbers here, but Leger has the PCs free falling to 25% support – 13 points back of the Wildrose Party. What's most interesting about these numbers is not the Wildrose lead, but that the Liberals and NDP are both up substantially since the last round of polling, and since the last election. Clearly, many Alberta progressives who lent Redford their vote in 2012 are feeling burned.
Whether or not they go back to her in 2016 remains to be seen. But with each passing scandal, asking them to do just that will become a more and more daunting proposition.