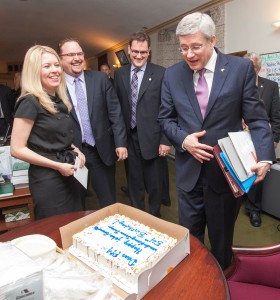 Today marks the 8th anniversary of Stephen Harper's election as Prime Minister. At the time, a lot of Liberals figured they could turn him into Joe Clark after a quick leadership change. Yet, by this time next year, Harper will have passed Louis St. Laurent, Robert Borden, and Brian Mulroney, to become the 6th longest serving Prime Minister in Canadian history – and most succesful conservative in over a century.
That's the good news. The bad news for Harper is that it's hard to fight the "time for a change" bug. Trudeau and King both lost elections after around a decade in power, and Chretien's own party forced him out of office. Usually, you only get a fourth term if voters don't trust the other guy and, from where I sit, there are two fairly impressive "other guys" with their sights set on 24 Sussex.
That said, no one expected Harper to last 8 years, so we would all be foolish to under-estimate him.