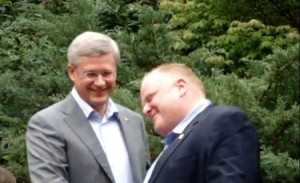 Rob Ford and Stephen Harper are about as different as two politicians can be, but the one thing they have in common is an uncanny ability to brush off scandals before they stick. Harper entered the 2011 election facing a "controversy of the day" – from Bev Oda's orange juice, to Bruce Carson's fraud charges, to Jason Kenney's use of government resources to target "very ethnic" voters, to "in and out", to a historic contempt of parliament vote. What did all that get Harper? A majority government.
If I tried to list all of Rob Ford's blowups here I'd run out of virtual ink, but despite being one of the most controversial politicians in Canadian history, his approval rating stood at 49% just last month.
However, this past week we've seen holes form in both Ford and Harper's teflon and, in both cases, they have no one but themselves to blame.
It's been nearly a week since claims surfaced of a Rob Ford crack video, yet the Mayor has refused to respond, beyond calling the allegations "ridiculous" and blaming it on a Toronto Star witch hunt. He's cancelled his weekly radio show and has dodged reporters, to the point where even the Toronto Sun has joined the witch hunt, demanding he clear the air.
In Ottawa, Harper has been equally evasive when it comes to Nigel Wright's $90,000 gift to Senator Mike Duffy, letting his enforcers take questions in the House before fleeing to Peru. In his lone public speech on the topic, Harper refused to admit anything wrong had happened, painted himself as the victim. More troublingly, he did not offer any sort of compelling explanation or solution.
Both Harper and Ford appear content to plug their ears and hope these latest scandals gently fade away, like so many scandals have before. However, by failing to offer any sort of consistent or coherent explanation as to what happened, the public has been left to assume the worst.
You are not authorized to see this part
Please, insert a valid
App ID
, otherwise your plugin won't work correctly.