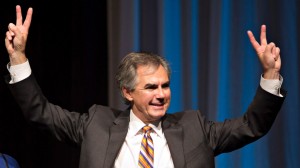 Blogging has been sporadic of late, but with Alberta barrelling towards an election, now is likely a good time for another Alberta Politics FAQ.


When will the next Alberta election be?
Alberta's fixed-ish election date legislation calls for a vote between March 1st and May 31st, 2016. Prentice, being a true reformer at heart, has said he will respect this.


Really?
Ha ha. No, of course not. Most expect an election call to immediately follow the March 26th budget.
Alberta's fixed election date law has proven to be about as binding as Alberta's balanced budget law.


So who's going to win the election?
The PCs.


Well, yeah, that seems likely, but isn't there a chance…
No.


But surely if there are a few more "blame Alberta" moments, and…
No. Not one of the opposition parties is even pretending they're fighting for anything but second place.
This election was over the moment Danielle Smith decided the election wasn't worth fighting.


So why did Danielle Smith cross the floor?
A year ago, Alison Redford was under fire for spending $45,000 of taxpayer funds for a charter flight back from Nelson Mandela's funeral (plus $3 for headphones). And because she spent thousands to fly her daughter and friend on government planes. And because she wanted to spend government funds on a private penthouse suite for herself in Edmonton. And because she had her staff create "ghost flyers" so that she wouldn't have to sit next to the proles on her flights.
It just proves the old saying that governments tend to grow out of touch during their 13th consecutive term in power.
Exit Redford. Enter Prentice.
Prentice quickly announced two popular policies:
1. Scrapping an unpopular plan to redesign Alberta license plates.
2. Not being Alison Redford.
While this gave the PCs a jolt of life, there were still storm clouds on the horizon:
1. Prentice was leading a 43-year old government which had barely escaped defeat two years earlier.
2. With oil prices tanking, he would need to raise taxes or cut services in his first budget.
3. In one of his first leadership tests, he completely bungled the issue of Gay-Straight Alliances in schools. His compromise would have forced teenagers to go to court if a school board said no. His cold "rights are never absolute" response left many irate. "Maybe that should be on the license plate" tweeted Rick Mercer.
By showing a deft ear, Prentice had effectively torn up the "Wildrose are bigots" card he no doubt intended to play during the next election.
But hey, Prentice had an insurmountable 6-point lead in the polls. And he managed to hold 4 PC seats in by-elections. I mean, really, what chance did Danielle Smith have?
So, down by 1 goal in the second period, Danielle Smith concluded the situation was hopeless, and she gave up.


What now for the Wildrose Party?
The Wildrosers will select a new leader on March 28th, at which point they'll have a day or two to print the signs, draft a platform, record commercials, round out their candidate slate, and find a bus that doesn't cause us all to giggle.
Three candidates are contesting the leadership:
You may know Drew Barnes as one of the "Wildrose 5" who did not defect.
You may know Brian Jean as the former backbench CPC MP who sent crossword puzzles about himself to his constituents (what's a 9-letter word for excessive preoccupation with ones self?).
You may know Linda Osinchuk if you are related to Linda Osinchuk.
Still, even though they are now little more than a fringe group of angry right wingers, the Wildrose Party still said "we're too good for you, Rob Anders". Which shows they have higher standards than the federal Conservatives, if nothing else.


And the Liberals?
They're also leaderless, after Raj Sherman abruptly resigned last month. They won't be selecting a permanent leader until after the election, but it's not like they've had much success with leaders lately, so why not?


So the opposition parties are all leaderless heading into the election?
You're forgetting about the NDP, which is understandable. But Rachel Notley is an impressive politician.
Still, the NDP are non-factors outside Edmonton – they failed to crack 4% of the vote in any of the three Calgary by-elections last fall. Those were the same by-elections that caused Danielle Smith to thrown in the towel, and she got 9 times as many votes as the NDP.
And with the divided vote on the left, it's hard to imagine the NDP taking more than 6 or 7 seats in Edmonton.
Still, that will likely be enough to make Notley leader of the opposition.


Yeah, vote splitting…it doesn't really make sense for Alberta to have 2 parties to the left of the PCs does it?
Oh, you are not going to like what I have to tell you next.
The divided left has been a problem in Alberta for years. So progressives looked at the situation and reached the only logical conclusion as to what was needed: A third progressive party.
Enter the Alberta Party. After a lot of listening and a lot of tweeting, the Alberta Party earned just 17,172 votes province-wide last election.
So, at least those vote splitting concerns proved unfounded.


Well then, what's this about Laurie Blakeman working to unite the left?
Last week, Blakeman announced she had been nominated by the Liberals, Alberta Party, and Alberta Greens (yeah, there's a fourth party on the left) as their candidate in Edmonton Centre.
While I applaud Ms. Blakeman for this step towards uniting the left, this is about as small a step as one could possibly take. Step is likely too strong a word. Maybe inching? It's barely a new development, as neither the Alberta Party nor the Greens ran against Blakeman last election. In 2008, the two parties earned a combined 514 votes in Edmonton Centre. I guess having their logos on her lit makes for nice symbolism, but this isn't exactly the Wayne Gretzky endorsement.


So basically you're saying that with a long time, scandal-plagued government battling an economic collapse, the opposition is leaderless, infective, and divided.
Is Jim Prentice the luckiest guy in the world?
Yes. Yes, he is.