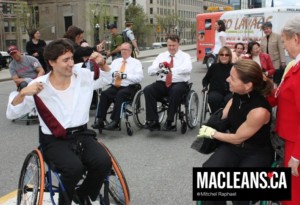 The Liberal Party has released the rules for its leadership race, effectively sounding the starting pistol.
The finish line will be April 14th in Ottawa, when the leader is announced. There's still no word on exactly how that vote will be conducted, though I assume there will be a mail/online/phone option for those who don't travel to the convention.
The first draft of the rules made reference to a "leadership showcase and debate" to be held on April 6th in Toronto. Although that line has been deleted, I hope it happens, since it would restore some of the relevance to candidate convention speeches. There's a part of me that loves the idea of Joe Supporter tuning in to watch the speeches Saturday afternoon, and being so moved by what he hears that he switches his vote. Yeah, yeah, I know that's not how leadership races work in practice, but at least we won't be in the NDP's situation where Mulcair could have dropped his pants and sung La Marseillaise during his speech, and still had enough advanced votes cast to win.
The entry fee will be $75,000 – a higher bar than I would have set, but I recognize the desire to wean the field down to the serious candidates. This isn't baseball fantasy camp, where anyone can live out their dreams of debating Justin Trudeau; candidates who have nothing to offer are only sucking up oxygen.
As I've written before, I do think long-shots like Deborah Coyne and David Merner have something to offer, so I do hope they'll be able to raise the needed funds. But this spells the end of the road for the Shane Geschieres and Jonathan Mousleys of the world.
The other rules are mostly bureaucratic and won't change the dynamic of the race. The membership/supporter cut-off will be 41 days before the vote. There will be a 10% tithe on all money raised (Liberals can't resist a chance to tax). The amount of debt candidates can accumulate has been mercifully limited.
There are still details to be announced – most notably, the debate schedule and voting mechanism – and the contest won't officially start until November. But for all intents and purposes, the race is on.