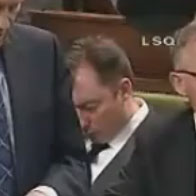 I know I said I wouldn't blog much over the next year, but if I have to come on here every time Rob Anders loses a nomination, I'm going to run out of bandwidth.
Here was Rob back in July, on his decision to seek the CPC nomination in Bow River:
"I really feel that [Bow River] is the Alberta I moved to in the 1980s. It's a place with more trucks, and it certainly wouldn't have elected someone like Naheed Nenshi, or other liberals pretending to be Conservatives these days. I feel a real connection. I find the people there are actually very sympathetic. They're real Conservatives and you certainly feel that. There's a strong pro-life movement going on in this riding, all sorts of hunting and shooting ranges."
Today Anders was defeated by Martin Shields, who I can only assume is a secret Liberal. I mean, the guy doesn't even own a truck.
After being rejected in Bow River, the question now becomes where Rob turns next. Wildrose leader Danielle Smith, who signed the nomination papers for a candidate who said gays would "burn in a fiery lake for eternity", has already said "thanks, but no thanks" to Rob, gently suggesting he move to the private sector. There is the upcoming Yellowhead by-election, but that's a riding that elected "secret Liberal" Joe Clark four times. So scratch that.
If only there were a group of voters who would "never elect someone like Naheed Nenshi", longing for a leader cut from Rob's cloth.
Sadly, the deadline to run for Mayor of Toronto has passed, so this might very well be the end of Rob Anders.