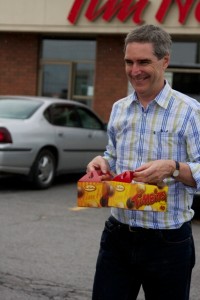 Everywhere you go these days, there's Michael Ignatieff. I've even seen him walking around Yorkville twice within the past month.
For those who miss seeing Ignatieff's face on every third commercial, you can read some juicy nuggets from his new book here, an excerpt on how he handled defeat here, and an interview with Aaron Wherry here. I'm not convinced he'll outsell Harper's hockey book, but the man can still generate buzz.
Even though Ignatieff is out of the game and has had two years for sober second thoughts, he still comes across as very much the same man he always was. A great writer. A thoughtful intellectual. Politically naive. Honest. Insightful and even brilliant at times. Stubborn at others.
And incredibly frustrating.
Reading through the last round of excerpts and transcripts, it's clear that Ignatieff refuses to accept any of the blame for what went wrong, though he's quick to criticize others. In his interview with Aaron Wherry, he says it's "unbecoming and naive" to complain, then blames the Tory attacks for his undoing. In one breath he claims to take full responsibility for the party's defeat, with the next he states "I'm not taking the wrap for the party I inherited. I'm just not.". He says he could have beaten Stephen Harper, but when asked if there's anything he would have done differently, his only response is that he should have won the leadership in 2006.
So in the end, all signs point to this memoir being vintage Ignatieff. Like Ignatieff's political career, this book had the potential to be different from standard political memoirs thanks to the author's unique background and perspective. And while the finished product shows us fleeting glimpses of that potential, it largely conforms into the trite finger pointing you'd expect from any defeated politician.
That was always Ignatieff's problem. He ran as a regular politician, when he was anything but regular. And he did it against two very talented career politicians. Given that, it should be no surprise Ignatieff's politicial career ended the way it did – even though he still seems perplexed by the whole experience.
You are not authorized to see this part
Please, insert a valid
App ID
, otherwise your plugin won't work correctly.