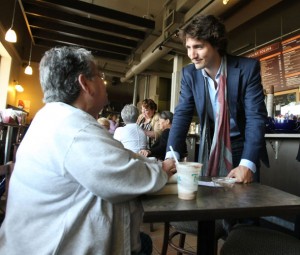 Blogs and pundits love it when politicians fall flat on their face, but as a fan of politics I can also respect a flawlessly executed political manoeuvre. Think of Stephen Harper's surprise piano duet with Yo-Yo Ma. In one swoop, Harper earned a month of good press and showed us the softer side of Steve. Or Jack Layton's "do you want me to take off my clothes" quip at the start of the 2011 election that put an end to concerns over his health. I've never voted for either man, but in those instances they showed they belonged in the big leagues.
Yesterday, Justin Trudeau showed that he can play the game too.
His candid admission that he smoked marijuana while an MP isn't exactly a bombshell, but it was executed to perfection. He proactively put it out there two years before the election, to avoid getting dogged with questions or ambushed by opponents. By coming clean before he was forced to come clean, Justin showed he has nothing to hide and was able to frame the story in the most flattering light:
The Liberal leader said he last smoked marijuana about three years ago. It was at his house in Montreal, outside on a patio by the pool. "We had a few good friends over for a dinner party, our kids were at their grandmother's for the night, and one of our friends lit a joint and passed it around. I had a puff," he told HuffPost.
Someone else bought it, one puff, no kids around – it's hard to dream up a more inocuous scene. For good measure, Justin took the opportunity to sell a policy of his and explain his change of heart on the issue, tying it to family tragedy:
Trudeau told HuffPost that when Michel died at the age of 23 in an avalanche in B.C.'s Kokanee Glacier Provincial Park in November, 1998, his brother had marijuana possession charges pending against him.

Michel had been in a car accident three months before the avalanche, Trudeau said. "One of the cops cleaning up the scene found a little cigarette box with a bit of pot in it," Trudeau recounted, his fingers a few millimetres apart to suggest how little marijuana there was.

"Mich had charges pending against him when he died for marijuana possession even though it was just a tiny amount," he added. Trudeau said that was one of the factors that led him to first support decriminalizing weed.

It wasn't until last November that he came to the conclusion that legalizing cannabis was the only way to keep it away from criminal elements and away from children, he said.
From there, Trudeau went on to explain he didn't care much for pot, never did hard drugs, isn't much of a drinker, has never smoked cigarettes, and doesn't drink coffee. In what could have been a shocking revelation about drug use, the man came across about as bland as Stephen Harper. There's a good Grease parody waiting to be made – "Look at me I'm Justin T, I don't do drugs or drink coffee…".
I know we're not talking about an Anthony Weiner type scandal here, but within a few hours Justin was able to joke about it on Twitter. Just like that, the original story was brushed aside.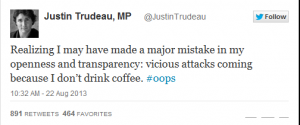 I'm sure we haven't heard the end of this, but by getting ahead of this issue, those attacks will carry less sting. This is very much a case of politics done well.