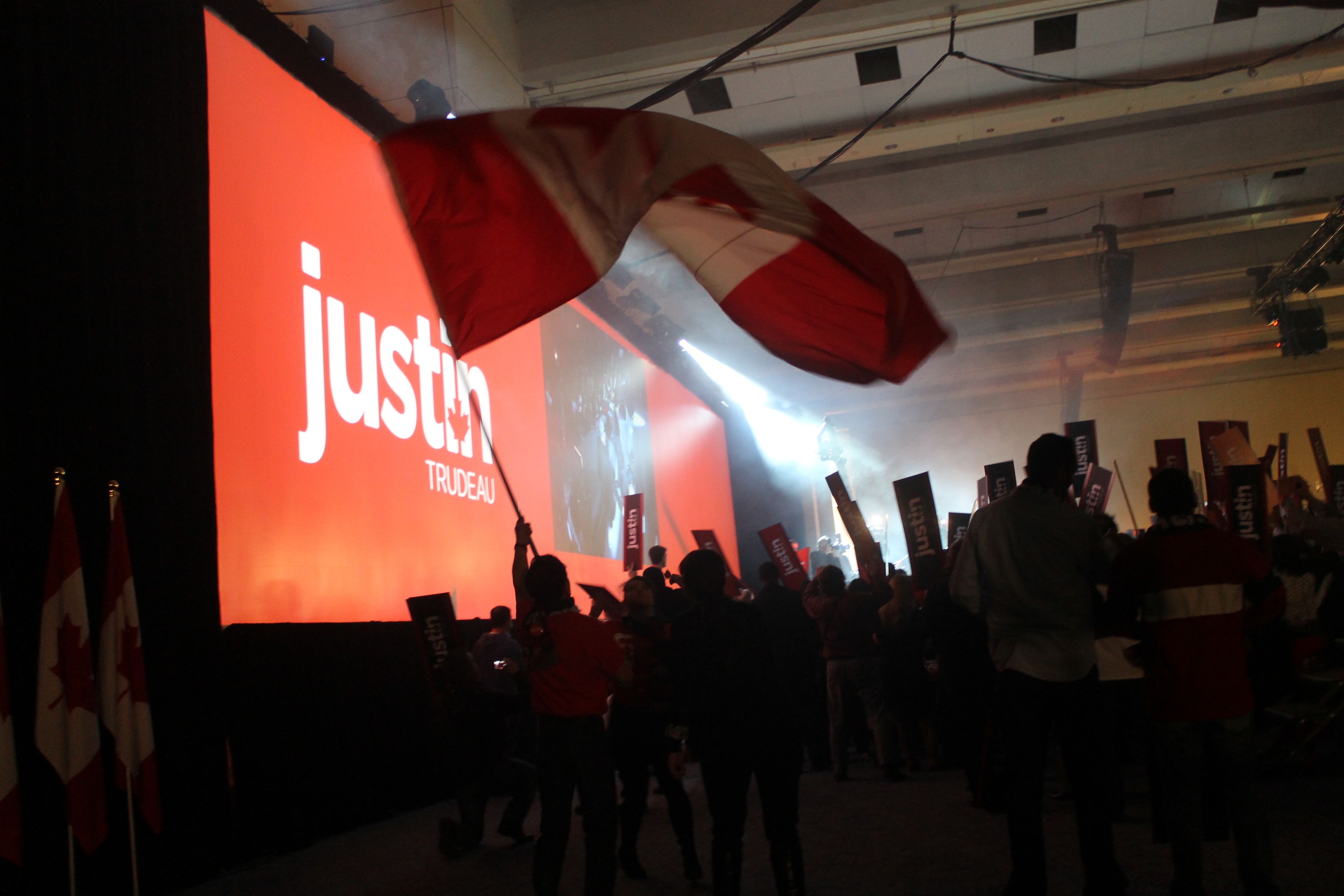 It doesn't compare to the high stakes floor crossings and backroom deals that define delegated conventions, but yesterday's Liberal Showcase still offered the speeches, signs, buttons, and hospitality suites politicos have come to expect at these gatherings. Justin Trudeau had cowbells. Martin Cauchon made swag history, handing out Liberal-red socks. Joyce Murray brought in a west coast hippie fusion marimba band.
And just like "real" leadership conventions, the program started with a tribute to the outgoing leader featuring, among other things, the clip of Bob Rae skinny dipping with Rick Mercer. That left the candidates with the unenviable task of trying to make themselves more memorable than Bob Rae's naked body glistening on a 70-foot High Definition screen. Bonne chance!
First up were Deborah Coyne and Karen McCrimmon – two candidates with little hope of winning, but who impressed for very different reasons.
McCrimmon is very much the anti-politician – she speaks honestly from the heart, in a style I truly hope never gets polished out by political consultants. She displayed her customary bluntness yet again, becoming the first politician to ever get bleeped on CPAC during a convention speech, after punctuating a colourful anecdote with a four letter word. The rest of her speech focused on the big picture, as she passionately urged Liberals to "follow your hearts and ignore the naysayers".
If McCrimmon personified the Liberal Party's heart at the Showcase, Coyne was the party's head. While it may feel good to "ignore the naysayers", the naysayers make a few valid points – especially those naysayers who no longer vote Liberal. Coyne gave Liberals the hard medicine they needed to hear, arguing "we are the third-place party today because, as we looked for the easy answer, Canadians lost sense of what we, as Liberals, stood for, and of what we bring to the table that is distinct from any other party."
The other candidates performed largely as expected. Martin Cauchon gave a rousing speech, but he continued to play the golden oldies – same sex marriage, Kyoto, Kelowna, and Iraq. Joyce Murray offered a valiant defense of her co-operation plan, but connected far more with the crowd when talking about her experiences growing up in South Africa under apartheid. And while I question Martha Hall Findlay's decision to borrow the theme song from "The Biggest Loser", she looked relaxed and confident on stage, reminding Liberals that Harper wasn't elected due to his sparkling personality and charisma but because he sticks to his convictions. Hint, hint.
Those were all fine speeches, but let's be honest – Martin Cauchon could have healed a cripple with his touch on stage and the story of the day would still have been Justin Trudeau. Love him or hate him, his was the speech people came to watch.
With the current campaign all but over, Trudeau used his speech to signal what his next campaign, in 2015, will be about. He promised a message of "hope and hard work", using optimism as a wedge issue against Harper and Mulcair. It's a powerful message, because it's one custom fit for Trudeau. The man oozes youthful optimism with every word he speaks, regardless of how hollow or cliche those words are.
Like hope, "hard work" is a promise Trudeau is especially well suited to deliver. Despite all the "silver spoon" attacks (or perhaps because of them), Trudeau has worked hard every step of his political career. While most in his position would have demanded appointment to a safe seat, Justin fought to win a contested nomination meeting many thought he would lose. He won back a Bloc riding in an election where the Liberal Party stumbled, and held it in an election where the party fell flat on its face. His insurmountable level of support this campaign is due as much to his willingness to attend hundreds of rubber chicken fundraisers coast-to-coast, as it is to his rock star appeal.
Liberals may not yet know where Justin stands on every issue, but they know they will soon have a leader who can credibly deliver a message of hope and a promise of hard work to voters. That's a lethal combination, and it should give Liberals themselves a ray of hope that better days lay ahead.
You are not authorized to see this part
Please, insert a valid
App ID
, otherwise your plugin won't work correctly.