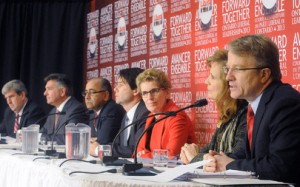 It's been hard to get any kind of quantitative read on how the candidates stack up in the Ontario Liberal Party leadership race to date. Gerard Kennedy may be leading the polls among Ontarians, Sandra Pupatello may be winning the endorsement race, and Kathleen Wynne may have raised more money dough than anyone else, but none of those numbers give us anything more than a hint of how rank and file Liberals will vote at the delegate selection meetings this weekend.
What may provide more insight into how much support the contenders actually have are the number of Liberals running to be delegates for each candidate. Those numbers were leaked to the Toronto Star Monday night, and they make a lot of intuitive sense:
Wynne 1533
Pupatello 1281
Kennedy 846
Sousa 778
Hoskins 714
Murray 461
Takhar 456
This leadership race is following the same format as the 2006 federal race (albeit under a much, much shorter timeline), and it should be noted that the number of people running as delegates was the variable most strongly correlated to first ballot support in that contest (r = 0.96 for you math nerds) – even more so than polls among party members. It's not an exact measurement – in '06 Bob Rae did far better than his "Form 6″ totals suggested he would – but it certainly gives us an idea of how the contest is shapping up.
And that shape confirms what most have suspected for a while – Wynne and Pupatello are out in front, but neither of them are likely to crack 30% on the first ballot, leaving those in the pack well positioned for a Dion-esque or McGuinty-esque convention charge. The only real surprise from Monday is Eric Hoskins, who has gone from the presumed 7th place finisher to a legitimate challenger – if his support translates into delegates this weekend.
But the picture is still fuzzy and will likely stay fuzzy until after the delegate selection meetings, at which point we'll have a much better idea of how creative the math needs to get for each candidate to chart their path to victory.
You are not authorized to see this part
Please, insert a valid
App ID
, otherwise your plugin won't work correctly.