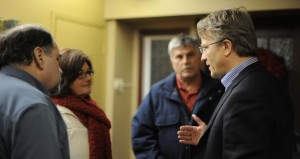 Yesterday, Steve V blogged about why he's running as a delegate for Gerard Kennedy in the OLP leadership race, and the point he circled back to was that, for better or worse, Gerard is more genuinely committed to changing the way politics is done in this country than any politician you will ever meet. Kennedy was talking about renewal long before it became an empty buzzword, and he has walked the walk by engaging and empowering grassroots Liberals and constituents throughout his entire political career.
So it should come as no surprise that he has released a substantive party renewal document today. It's a meaty list of proposals, but here are a few of the reforms that I'm most excited to see:
1. Have the party leader meet with every riding association at least once a year.
2. Increased communication between the party leader and riding presidents, including a "hotline" that will respond to all messages within 24 hours.
3. Creation of an advisory council that will draw on the talents of past MPPs and candidates.
4. Support for one member one vote leadership races in the future (possibly using the federal "supporter" system).
5. Development of targeted youth intern, mentorship, and candidate development programs.
6. An open Wiki for discussion on policies being considered for the party platform.
7. Giving youth a real voice and real responsibility, by allowing them to develop and pass one policy each year that will be included in the platform, without reference to the senior party.
8. A concrete 107 riding strategy.
9. Less rigid party discipline, with free MPP votes on everything outside of budget and platform items.
10. Open nominations in all ridings (under normal circumstances).
I should point out that these are not earth shattering proposals. Indeed, most of the ideas in the Change Document are things Liberals have been talking about at "renewal" roundtables for years – many were taken directly from suggestions made by over 750 Liberal members who took a Kennedy campaign feedback survey on this topic back in November.
The difference, as I see it, is that Kennedy has made a career of advocating for a more open political process, so you know this will be a top priority of his – not just a hollow document that will gather dust in a binder after the leadership race.