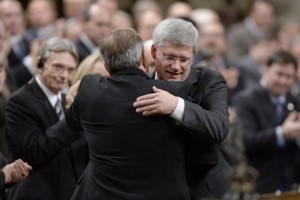 These days, it must feel good to be Thomas Mulcair. The polls show he has a chance to become Canada's first NDP Prime Minister, and the entire country has been engulfed in an orange afterglow since the Alberta election. But as Uncle Ben once said, with great polling comes great scrutiny.
Indeed, one of the downsides of surging four months before election day is that leaves a lot of time for journalists and voters to put everything you've ever said or done under the microscope, and study it at the atomic level.
So when you make the type of verbal slip-up we all make from time to time, people are a lot more likely to notice.
And when you're one day re-affirming your opposition to the Clarity Act, and the next promising a round of constitutional negotiations, people notice.
And now this:
NDP Leader Thomas Mulcair was in discussions in 2007 to join the Conservative party as a senior adviser to Prime Minister Stephen Harper, discussions that several sources, including former senior Harper staffers, say was the first step in securing Mulcair to run as a Conservative candidate in 2008.

The negotiations between the Conservative government and the man who is today leader of the left-leaning official Opposition allegedly broke down over money: Mulcair wanted nearly double what Harper's office offered, two sources tell Maclean's.

Contacted today for comment, Mulcair says conversations about an advisory role with the government did occur, but talks broke down, not over money, but over the Conservatives' environmental policies.
This has been talked about for some time, so it's not a bombshell. It's also not overly surprising if you think about it.
For most politicians, their greatest strength can be turned into a weakness. Stephen Harper is strong, but many call him authoritarian. Justin Trudeau is fresh, but the flip side of the coin is inexperience. Mulcair likes to portray himself as a politician with experience who knows how the game is played – but that also means he knows how the game is played. It's only natural that a political pro like Mulcair would try to squeeze taxpayer dollars for partisan purposes, or would consider his options before jumping to federal politics.
Many will dismiss theses as allegations from the Conservative side of the negotiations, but the problem for Mulcair is that even his own side of the story will seem rather unseemly to many New Democrats. It's all very good to say talks broke down over the environment, but I suspect most NDP voters have more than one stumbling block with the Harper government. Mulcair says he talked to at least three separate individuals about joining Harper's team between 2006 and 2007. Most New Democrats, if asked to become an adviser to Stephen Harper, would laugh rather than set up a series of meetings to discuss terms.
The whole ordeal reminds me of the old joke:
Churchill: "Madam, would you sleep with me for five million pounds?"
Socialite: "My goodness, Mr. Churchill… Well, I suppose… we would have to discuss terms, of course… "
Churchill: "Would you sleep with me for five pounds?"
Socialite: "Mr. Churchill, what kind of woman do you think I am?!"
Churchill: "Madam, we've already established that. Now we are haggling about the price."
Whether the talks broke off due to money or a single issue is mostly irrelevant in this case. The fact that Mulcair was negotiating establishes what kind of man he is.