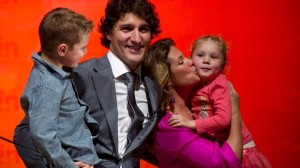 Today marks the 12 year anniversary of the first time Liberals recognized there was something special about Justin Trudeau. Justin's moving eulogy of his father brought Liberals to tears but, Liberals being Liberals, it also made many of them wonder if one day Justin was destined to return to 24 Sussex. This was a kid worth keeping an eye on.
Flash forward six years. At the Liberal leadership convention in Montreal, Justin Trudeau became a rock star, with swarms of adoring fans following him wherever he went. By the end of the weekend, every Liberal in the country had a signed tambourine and a Facebook profile picture of them and Justin. By now it wasn't a question of if, but when.
In 2007, he won a hotly contested nomination battle many thought he'd lose. In 2008, he was one of only a handful of Liberals to claim a previously unheld riding. In 2011, he was one of few to keep his head above the orange wave.
During this time, I suspect most Liberals secretly viewed Justin as "the next one" – that hot shot prospect you pin your hopes on. Like all prospects, the potential was there, but so was the risk he could bust and turn into the next Alexandre Daigle.
No one wanted to rush him to the majors this soon, and I'm sure Justin himself would have rather waited – but we're in a situation where there may not be a Liberal Party for Justin Trudeau to lead in 10 years, so the time is now. Ready or not, here he comes.
The end result of this is a leadership race where no one really knows what to expect from the frontrunner. Yes, everybody has confidently written about how he's destined to be the Liberal saviour or to go down in flames, but Justin is still very much an unknown so it's all just speculation. A charity boxing match is not a gateway to the man's soul. Just because he hasn't been to outer space, it doesn't mean he lacks substance or vision.
Justin Trudeau is a giant blob of untested potential who Liberals have been pinning their hopes on for many years. Yesterday, he finally got his call to the majors. As with all prospects, it's likely best not to read too much into his first game, but it was an encouraging start. After the mandatory "gosh, Canada is swell" fluff, this part got to me:
But I said to Liberals after the last election that we need to get past this idea that a simple leadership change could solve our problems.

I believe that still. My candidacy may shine a few extra lights upon us. It may put some people in the bleachers to watch. But what we do with that opportunity is up to us.

All of us.

And when Canadians tune in, we need to prove to them that we Liberals have learned from the past, yes. But that we are one-hundred-per-cent focused on the future.

And not the future of our party: the future of our country.

I am running because I believe this country wants and needs new leadership. A vision for Canada's future grounded not in the politics of envy or mistrust. One that understands, despite all the blessings beneath our feet, that our greatest strength is above ground, in our people. All Canadians, pulling together, determined to build a better life, a better Canada.

To millions and millions of Canadians, their government has become irrelevant, remote from their daily lives, let alone their hopes and dreams. To them, Ottawa is just a place where people play politics as if it were a game open to a small group, and that appeals to an even smaller one.
At this point, that's nothing more than words, even if those words are being spoken by a leadership candidate with great hair. But they do show a certain level of self awareness about the state of the Liberal Party and politics in this country. Whether or not Justin lives by those words will be seen in the coming months.
If he does, he may very well live up to his potential.