Bits and pieces of news from the Ontario Liberal Party leadership race, in advance of tonight's debate in Ottawa.


The Policy Candidate: Glen Murray has released the most detailled policy proposals and routinely peppers his speeches with more facts and figures than you'll see in a fourth year economics class. For you wonks, be sure to check out his plans for tax reform, party renewal, and Northern Ontario.


The Blog-Friendly Candidate: I got tied up and wasn't able to make the call, but props to Kathleen Wynne for fielding questions from bloggers last night. Scott Tribe offers a recap here.


The Punnable Candidate: No doubt capitalizing on Marc Garneau's out-of-this-world pun express, Eric Hoskins has released the following: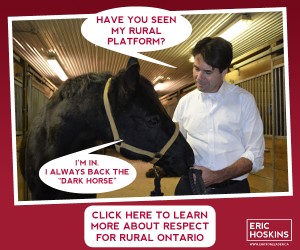 The Establishment Candidate: Sandra Pupatello leads the way in the endorsement race, with 17 MPPs backing her. While Alison Redford and Christy Clark didn't need any caucus support to win their leadership races, this is good news for Pupatello since one ex-officio is worth about 25 "regular" Liberals under the delegated convention format.


The Electable Candidate: If it comes down to winning (and it usually does for Liberals), Gerard Kennedy has a fairly good case to make. A series of Forum polls show he's the top choice of Ontarians, would fare the best of all candidates in an election, and is seen as the candidate who is most trustworthy and most caring, with the best plan for the economy. Yesterday, Abacus Data released a poll of their own showing Kennedy well ahead of the field when it comes to being the most known and the most liked candidate.
Now, I've said before that no party should be picking its leader based on hypothetical polls. Once voters get better acquainted with the candidates, their impressions invariably change. But with an election likely in early 2013, it certainly makes life a lot easier for the OLP if they're selling a product voters already know and like. Otherwise, you're competing with the NDP and PCs to frame the new leader, and there's no guarantee the Liberal story is the one voters will latch onto.