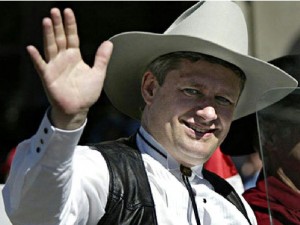 Back when I first sat down to rant about politics on May 15th 2004, I never expected I'd still be doing this over 3,000 posts later. The blog has outlasted 3 Liberal leaders, been through 4 federal elections, and documented my involvement on a handful of losing leadership campaigns. During that time, Bart Ramson turned into Dan Arnold, I moved to Edmonton, finished school, and became a "Toronto Grit". Shortly thereafter, Naheed Nenshi became mayor of Calgary and Rob Ford became mayor of Toronto. Go figure.
Nenshi and Ford have provided me with bountiful amounts of blogging material, but they have not been alone. There was the Michael Ignatieff experiment, on which so much virtual ink was spilled. There was the coalition crisis, which gripped the nation. There was the rise of the Wildrose Party, which led to the rarest of things – an exciting Alberta election. There was the orange wave. And, through it all, there was still time to poke fun at Politicians in Cowboy hats…and leather vests.
Another source for much blog content has been Justin Trudeau, but he is also the reason content has been, and will continue to be, scarce here. I've recently started working for the Liberal Party which, needless to say, limits what I'm able to write about. And really, what's the point of blogging if I don't have Rob Anders to kick around anymore.
You may still find the occasional retrospective or Pierre Poilievre rant, but this site will be taking a breather from deeper political analysis, at least until after the next election.
So a big thank you to everyone for reading over the years. I've always been in awe of the high caliber of discussion in the comments section of this site, and have appreciated the e-mails. As vain as it is to count clicks, the fact that I knew people were reading certainly motivated me to keep at it for a decade. So, to everyone, thank you.
I leave you with a list of 10 of my favourite posts from over the years. These aren't necessarily the most viewed or the best posts – just 10 that I had a lot of fun writing.
1. Follow the Leader: I only include this post as a humbling reminder about how unpredictable politics can be, and how wrong I've been on many occasions. Just one year before Paul Martin's resignation I provided odds on 13 possible Liberal leadership contenders without listing Stephane Dion, Bob Rae, or Gerard Kennedy. I do mention Michael Ignatieff, but only in what may have been the most awesomely off-the-mark sentence in the history of this blog – and I quote – "This week, we saw Peter C. Newman toot Michael Ignatieff's name which is interesting because that's about as serious a suggestion as Justin Trudeau". Heh.
2. Greatest Prime Minister: In a March Madness style contest, blog readers voted for Wilfrid Laurier as Canada's Greatest Prime Minister. This begat a series of other contests including "Best Premier", "Best Prime Minister We Never Had", "Biggest Election", and, coming this summer, "Best Minister of Natural Resources".
3. The Race for Stornoway: 2006 was really the heyday for political blogging. From the "Draft Paul Hellyer" movement, to candidate interviews, to the blogging room at the convention itself, blogging was as close to "cool" as it would ever be.
4. A Beginner's Guide to Alberta Politics: For some reason, I seemed to blog a lot more about Alberta politics after I left Alberta.
5. Christmas Letters – Elizabeth May, Jack Layton, Michael Ignatieff, Stephen Harper. People, myself included, take politics way too seriously sometimes. So it's good to have some fun with it.
PS. Ed Broadbent.
6. Leadership Power Rankings (here, here, and here). The wonderful thing about politics is how unpredictable, complicated, and human it is. That's why I love the challenge of trying to quantify it.
7. Moments of Decade: Hopefully I'm blogging again by 2020, because this is an exercise I'd dearly love to repeat. Readers nominated and voted on the top political moments of the decade, with the Alliance-PC merger topping the list. It wasn't as exciting as the coalition crisis or the Belinda Stronach Chuck Cadman confidence vote insanity, but it set the stage for the rise of Stephen Harper.
8. On October 6th vote for proper scaling of the Y-Axis. Vote Liberal. Tim Hudak math burn!
9. What's the Matter with Calgary? Having lived in both Calgary and Toronto, I've always been absolutely fascinated by the Nenshi-Ford dichotomy. Elected a week apart, these men are opposites with so much in common, who both shattered their cities' stereotypes. When I first moved to Toronto, a lot of lefties would shake their head and "tsk tsk" when I said I was from Calgary. Not any more.
10. Everything You Always Wanted to Know About Census (But Were Afraid to Ask): I've never been of the opinion that Stephen Harper is a monster who has destroyed Canada beyond recognition. Even on issues where we disagree – the gun registry, climate change, Quebec as a nation – I understand where he's coming from. However, of everything Harper has done, his decision to scrap the long form census remains the thing that boils my blood. Here was the party who sends Happy Hanukkah cards to swing voters calling the census too "intrusive". It wasn't an assault on the welfare state or big government, it was an assault on reason. It showed that Harper offered nothing more than government by truthiness.
And that, is why I'll be taking a break from blogging for the next bit to help defeat him.