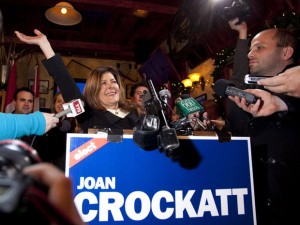 In all my years blogging about Calgary politics, I never thought "Liberals blow by-election" is a story I'd have to write. "Liberals lose" is a common headline for a party that hasn't won a seat in Calgary since 1968, during the height of Trudeaumania (the first round of Trudeaumania that is). But while some Liberals have come down with "candidate's disease" over the years (symptoms include house hunting in Ottawa), the reality is the Liberal Party is never even in the game; there hasn't been a Liberal candidate within 20 points of victory in Calgary this century. Usually, getting your deposit back and beating the NDP is reason enough to pop the champagne on election night.
This by-election however, represented a genuine opportunity for victory. After all, this was Calgary Centre, and downtown Calgarians have a lot more in common with downtown Torontonians than they do with Nanton ranchers. Progressives in the riding elected Joe Clark in 2000, routinely send Liberal MLAs to Edmonton, and voted overwhelmingly for Naheed Nenshi during the 2010 mayoral election. The Conservatives nominated a polarizing and unpopular candidate, and the Liberals had a good one in respected conservationist Harvey Locke. With polls showing Locke on the cusp of a breakthrough, Liberals threw everything they had at the campaign. Yes, it was still a long-shot – but that's the best shot the party has had in Calgary in a long time.
Then, as they always seem to do, things fell apart. If anyone ever wants to modernize the myth of Sisyphus, I'd suggest a better punishment than forever pushing a boulder up a hill only to watch it roll back down would be forever volunteering on Alberta Liberal campaigns.
One week before the vote, David McGuinty accused Conservative MPs of being "shills for the oil industry", telling them to "go home to Alberta". Bob Rae apologized, McGuinty resigned his critic portfolio, and Justin Trudeau, fresh off his second tour of duty helping the Locke campaign, made it clear where he stood:
"My entire campaign has been about bringing people together, about not pitting region against region and about being a strong representative and a voice that says the same thing in Chicoutimi as we say in downtown Calgary as I'll say in Toronto as I'll say in B.C."
The problem, as we would learn the next day, is that he hadn't always been saying the same thing in Montreal:
"Canada isn't doing well right now because it's Albertans who control our community and socio-democratic agenda. It doesn't work," Trudeau told interviewer Patrick Lagacé.

When asked whether he thought Canada was "better served when there are more Quebecers in charge than Albertans," Trudeau replied, "I'm a Liberal, so of course I think so, yes. Certainly when we look at the great prime ministers of the 20th century, those that really stood the test of time, they were MPs from Quebec. There was Trudeau, there was Mulroney, there was Chrétien, there was Paul Martin. We have a role. This country, Canada, it belongs to us."
Many Liberals rushed to his defense, dismissing the attacks as a Conservative smear job and arguing that Justin's 2010 comments had been "taken out of context". However, it was clear to anyone who watched the full interview that the quotes were properly translated and represented. There really is no way to defend Trudeau – and not just because he feels Brian Mulroney is one of this country's "great" Prime Ministers. In no uncertain terms, he belittled an entire province.
These comments might not have been the decisive factor – after all, the final results were close to polls taken before the controversy. It would be especially unfair to pin this one on Trudeau, given Locke may have only have been in the game in the first place due to the life Trudeau has injected into Liberal support levels from coast to coast. And both Liberal MPs were trying to make perfectly valid points when their comments "slipped out" – in McGuinty's case, that national politicians should think of the good of Canada rather than just their own backyard, and in Trudeau's, that francophones can thrive inside Canada.
However, it's partly because these were throw-away off-the-cuff lapses that they're so unsettling. Both comments suggested to voters that no matter how often the Liberal Party says all the right things and tries to reach out to the West, deep down inside, they're still against Alberta. All it takes is a heated exchange in the House of Commons or a candid interview without talking points for their true nature to rise to the surface.
In all honesty, the Liberal Party has written off Alberta for decades, so it's only natural for attitudes like this to become ingrained. You can't simply flip a switch and ask your MPs to suddenly play nice because there's a by-election going on. Even if they do, voters have long memories – to some extent, Stephen Harper is still paying for the sins of the Reform Party vis-a-vis Quebec and Atlantic Canada in the 90s.
The good news is, voters will eventually forgive if they see a genuine change in attitude. Bob Rae's swift response to McGuinty's misstep, and Justin Trudeau's pro-oilsands positions are evidence that the Liberal Party is changing. Nearly every Liberal leadership candidate I've talked to has made growing the party in Western Canada a key theme of their campaign. It's the right thing to do, and it's also good politics, with 12 new Western seats coming into play next election.
Last night, Harvey Locke received 32.7% of the vote, squeaking past Bev Longstaff's post-1968 Calgary Liberal "record" of 32.6%. Locke's campaign energized local Liberals, and showed the federal party why they can't write off Alberta. If the LPC takes that message to heart, there's every reason to believe they can snap their 44-year Calgary losing streak.